All your vital data. All in one place.
Improve, simplify, and secure your daily processes with one of the biggest diagnostics databases in the world. HIPAA-compliant and 100% insured, the core of Med DataLink is InfoCentral MD - a flexible, feature-rich database built for the medical industry, but customizable by you. And even with all of the features below, we're still one of the lowest-cost providers of telemedicine management around.
Contact us
for a full software walkthrough.
Unmatched security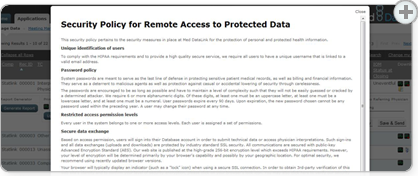 With so much critical information at stake, you need top-of-the-line protection against data loss and fraud. That's why every event is recorded, timestamped, and saved. And with digital signatures and automatic file archiving, nothing happens to your data without your knowing about it. Pair that with the highest level of data encryption available, and you've got one seriously secure system. So while your patients trust you, you can trust us.
Built-in messaging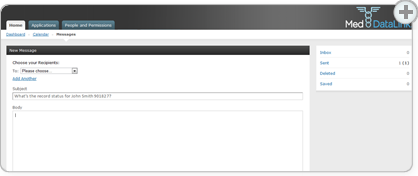 Due to federal restrictions, it's illegal to send patient-critical protected health information (PHI) without the required security and certifications (like via regular email or fax). So we've incorporated a safe, HIPAA-compliant messaging system right into Med DataLink. Communicate with your staff, partners, facilities, or patients just like email, and get alerts sent to your external email address to notify you of new messages. So you can stay in touch and stay secure.
Financial center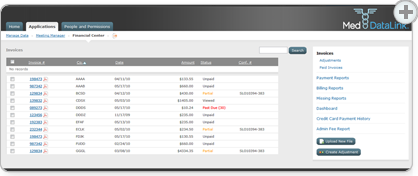 We've got the most advanced medical billing software available - and it's completely integrated. We can even do all of your billing for you. From invoices to appeals, we've got a full billing staff ready to make sure you spend less time with paperwork and more time with patients. Centralized files and forms have already helped bill over $100 million in claims. Get daily notifications of any missing information that could keep you from getting paid promptly, and see how your billing and collections can be easier than ever.
Scheduling calendar
Get the most from your people, places, and products - and maximize your potential revenue. See when and where you or your employees are set to work, and stay a step ahead of your fast-paced schedule. Create multiple calendars for different companies, locations, and clinicians to better manage downtime. Even attach related files when you create a calendar event - so setup, breakdown, and processing happen even faster.
Custom reporting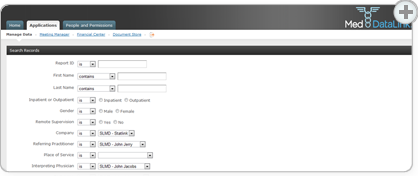 Build and export custom reports from any of your information stored in Med DataLink. Get easier data-mining capabilities, and only see the records you need with personalized screen layouts.
Medical/forms document generator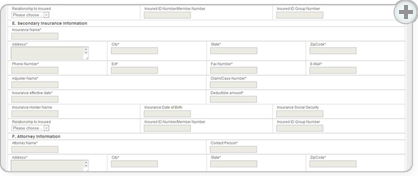 Create reports, letters, or interpretive documents in a flash - we've even got a team of designers to help you do it. "Smart" forms automatically self-adjust to give you only the fields that are relevant. Just point and click to fill in information, and customize it with your own images or logo. Then send it with a click using the built-in messaging system.